Is Invisalign Worth the Cost?
If you are unhappy with the way your smile looks because of crooked, crowded, or gapped teeth, Invisalign might be the best approach to straightening them. 
Although Invisalign is not cheap, it is a great value for many people. In fact, more than 90% of people on independent review sites say that the procedure is "worth it." Why is Invisalign worth it? Here are just a few of the benefits that set Invisalign apart from other approaches to straightening your teeth. 
Convenience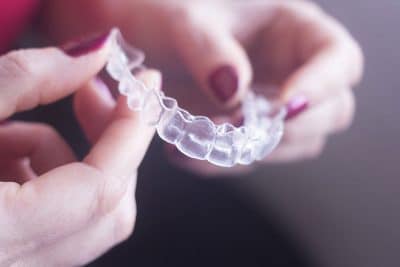 One of the biggest benefits of Invisalign is that it's a convenient way to straighten your teeth. Compared to braces, you don't need to make as many dental appointments, and the need for appointments can be reduced even further. 

While traditional braces tightening appointments require you to come into the office for manual adjustments, Invisalign appointments can be as simple as a quick exam and giving you your next set of aligners.

That's great convenience, and especially important in this time of uncertainty. 
Take Care of Your Teeth
One of the concerns about traditional braces is the challenge of cleaning your teeth with them on. It can be hard to thoroughly clean teeth around the brackets and wires of traditional braces. 
However, Invisalign aligners are removable. This lets you remove your aligners so you can easily and properly brush and floss your teeth. 
This can help you keep your teeth healthy during treatment and reduces your risk of cavities and gum disease. These problems are more common in older adults seeking to straighten teeth, which often makes Invisalign the best choice. 
Professional Support
There are some services that try to sell you on getting orthodontic treatment by mail without the help of a dentist. This puts you at risk for complications if problems occur. Although complications with any orthodontic treatment are unusual, if they do happen, they can be serious. It's best to have a dentist handy if you need them. 
This is what sets Invisalign apart from all the aligners-by-mail services. If you have a problem and if you need a dentist, you have one. The peace of mind alone is worth it. 
Continual Improvement
Another difference between Invisalign and other aligner-based approaches is the dedication to constant improvement at Align Technologies. The company offering Invisalign is constantly working to improve their algorithms, materials, and more. This means that the Invisalign process is always better today than it was in the past. 
Although Invisalign hasn't been around for long, Dr. Clancy has worked with and offered Invisalign since 2003. Plus, it can handle more cases than ever, although some might still benefit from full face orthodontics. And it continues to get better all the time. 
This also makes it worth the investment. 
Improved Health
When people think about straightening their teeth, they focus mostly on the cosmetic benefit of having a straighter smile. While this is important, it's not the only benefit: you can see an improvement in your oral health, too. 
That's because straighter teeth are easier to clean and get less food stuck in them. Over time, this can reduce your risk of gum disease by as much as 50%, with a reduced risk for cavities, too. 
Considering Invisalign in Woburn or Winchester?
Are you considering straightening your teeth in the Woburn or Winchester, MA area? Divine Smiles can help you learn more about the benefits that set Invisalign apart from other approaches to straightening your teeth. 
Please call (781) 396-8558 today for an appointment with a Woburn Invisalign dentist at Divine Smiles. 
By Ryan M. Clancy, DMD, MAGD, LVIF, FPFA, FIAPA | July 21st, 2020 | Invisalign, Orthodontics