Why Dental Implants Are Such a Life-Changing Procedure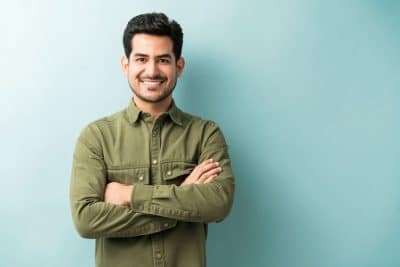 At Divine Smiles, we offer many life-changing dental procedures to our dental family in the Woburn and Winchester area. It's rewarding to see so many of our patients smile again as if for the first time when they get their
cosmetic dentistry
procedures. We love when we can provide treatment for bite problems like
temporomandibular joint disorders (called TMJ or TMD)
.
However, none of the procedures we offer tends to be as impactful as dental implants, especially for patients who have lived with dentures for a year or more. Here's why dental implants can have such a powerful impact on your life.
Let You Eat Freely Again
Eating is more than just getting sustenance for our bodies. It is one of life's key pleasures and one that continues to offer surprising variety as we get older. Food is also an important social focus. There are few gatherings of friends and family or even professional partners that don't center around or at least include food.
If you can't eat properly, you not only lose the pleasure of food, you can also lose the pleasure of those gatherings. You might not want to even go because you won't be able to eat the food or don't like the way your dentures alter how you eat. You might eat slowly or have to take your dentures out to eat. Or your dentures might come out of your mouth when you're eating.
Dental implants eliminate all these limitations. You will be able to bite and chew freely again, enjoying all the foods you used to love. Your sense of taste will also be restored because you won't have a denture blocking your upper palate. When you get dental implants in Woburn and Winchester, you can feel younger and freer.
Free You from Denture Pain
Daily pain can really rob you of your quality of life. As we get older, there's, unfortunately, some amount of pain that we have to experience. Most of us certainly wouldn't choose to experience any additional pain if we could avoid it.
Denture pain can be a chronic pain that builds up over the course of the day, making denture wearers eager to take out their dentures for the night. It creates a daily burden of suffering that makes life much less enjoyable.
Fortunately, denture pain is avoidable. Dentures hurt in part because they put the force of biting and chewing on your gums. Your gums aren't strong enough to bear that pressure. Dental implants let your Woburn and Winchester implant dentist direct that pressure back into your jawbone the way natural teeth do. This can reduce or eliminate denture pain, helping you to live a life free of denture pain.
Can Look Great
Lost teeth can significantly diminish your self-esteem. Whether you opt for dentures or have gaps in your smile, you can feel self-conscious about your smile in ways you didn't before. Having gaps in your smile is the most visible dental problem, and people can make judgments about you based on that problem, judgments that you can see in their eyes.
Dentures can look good, but many don't. In addition, dentures often come out of place, betraying their presence and exposing your missing teeth.
Dental implants can look just like natural teeth. Your Woburn and Winchester implant dentist will secure them in place so that you can smile with confidence again.
Restores Healthy Mind and Body
It's always important to remember that your mouth is vitally connected to the rest of your body. The health of your mouth has a direct impact on your overall health, and dental implants can have a more positive impact than dentures.
With dentures, if you're giving up foods because they're hard to chew, you are likely giving up fresh fruits and vegetables as well as meats and nuts. You may be adding more processed foods to your diet, as a result, increasing your intake of fats, sugars, and salt. This can make you less healthy, and you feel it.
In addition, loosely fitting dentures can diminish your strength and balance, making it harder to stay active while avoiding falls. Adopting a less active lifestyle can also make you feel unhealthy.
Finally, chewing is connected to the brain in ways we don't fully understand. What we do know is that chewing helps to stimulate the hippocampus and prefrontal cortex, helping you to maintain cognitive function. If you give up chewing because your dentures don't work well, your ability to think clearly may be affected.
Dental implants, by preventing or reversing these effects of missing teeth and dentures, can help you maintain a healthy mind and body. They can have a rejuvenating effect on your health in ways that are hard to appreciate until you experience them for yourself.
Eliminate Your Sense of Loss
There's also a psychological and emotional dimension to replacing your teeth with dental implants. The loss of teeth, like the loss of a limb, can lead to a painful grieving process. Either having a gap in your smile or using a poor substitute like dentures reinforces your grief. You are constantly reminded of what you have lost by the appearance of missing teeth or by the functional limitations you experience on a daily basis.
Dental implants are the closest thing we have to grow a new replacement tooth. Because they effectively replace your lost teeth from a visual and functional standpoint, they can diminish your sense of loss, leading to emotional healing. It's like getting a complete do-over in ways that we rarely get with other types of loss.
Restore Your Life with Dental Implants in Woburn and Winchester
If you have lost one or more teeth, dental implants are the best approach to restoring them. They look and function like natural teeth. They even feel like natural teeth. This helps you get your life back as it was before you lost your teeth. To learn more about the benefits of dental implants, talk to Woburn and Winchester implant dentist Dr. Ryan Clancy.
Please call (781) 396-8558 or email us today to request an appointment at Divine Smiles serving the Woburn and Winchester area from our office in Horn Pond Plaza, across from Whole Foods.
By Ryan M. Clancy, DMD, MAGD, LVIF, FPFA, FIAPA | June 22nd, 2022 | Dental Implants