What Causes Teeth Grinding?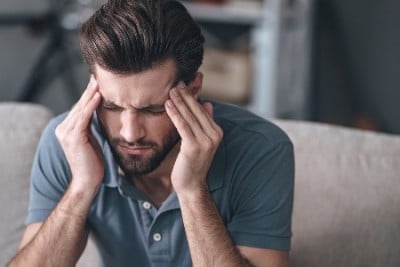 Teeth grinding, also known as bruxism, is fairly common in men, women, and children. While children often grow out of it, in adults it can lead to severe symptoms such as chronic headaches and tooth damage. A number of physical, mental, and lifestyle factors can cause bruxism, and treatment may be a combination of lifestyle changes along with an oral appliance or dental work.
Woburn and Winchester dentist Dr. Ryan Clancy is experienced in treating teeth grinding and helping his patients achieve a higher quality of life. Call Divine Smiles today at (781) 396-8558 to schedule your teeth grinding consultation.
The Many Possible Causes of Teeth Grinding
Teeth grinding can be caused or exacerbated by any of the following:
Sleep apnea
Stress
Misaligned bite
TMJ
Heavy alcohol, tobacco, or caffeine use
Genetics
Bruxism and sleep apnea are actually very closely related, and if you have one chances are high that you also have the other. Clenching your teeth may occur involuntarily when you are awakened after your breathing temporarily stops with sleep apnea. If your teeth grinding is found to be a likely component of your sleep apnea, treatment for sleep apnea may help prevent further teeth grinding.
Stress is another common risk factor for teeth grinding. People who are overly stressed in their job or daily life may clench their teeth unconsciously at night or during the day. If stress is a major part of your teeth grinding, in addition to an oral appliance, you may want to look into anxiety medications or stress-relieving techniques such as meditation.
Crooked or missing teeth that cause your bite to be misaligned may also cause teeth grinding and clenching. Bite misalignment is also a leading factor in TMJ. If your bite is misaligned, Dr. Clancy will recommend a restorative dentistry treatment plan to help realign your jaw and relieve your symptoms.
Why Treat Teeth Grinding?
Teeth grinding can cause symptoms that may interfere with your quality of life, including:
Chronic headaches
Worn-down, cracked, or loose teeth
Jaw, neck, and shoulder pain
Jaw stiffness
Lack of good sleep
Luckily, there are treatments available that can help treat teeth grinding. Depending on the root cause of your bruxism, Dr. Clancy may recommend:
An oral appliance to treat sleep apnea
A night guard to prevent grinding at night
Dental restorations to re-align your bite
TMJ treatment to relax your jaw
Lifestyle changes to help you relax and de-stress
Dr. Clancy trained at the prestigious Las Vegas Institute for Advanced Dental Studies, which provides comprehensive courses in neuromuscular dentistry and sleep apnea. This training makes him uniquely qualified to address and help treat your teeth grinding as well as related issues such as TMJ and sleep apnea.
Schedule Your Teeth Grinding Consultation
If you have noticed that you're grinding your teeth often or in your sleep, call Dr. Clancy for a consultation at (781) 396-8558. We serve patients in Woburn and Winchester.
By Ryan M. Clancy, DMD, MAGD, LVIF, FPFA, FIAPA | April 10th, 2018 | Sleep Apnea, TMJ